Jeep & Camel Safari
Jaisalmer is the best place for desert camel safari and provides a exotic experience of riding a camel with a visit to the desert and a night on the sand dunes, sleeping under the stars. We have been organizing Camel Safaris since 1989 and have been seeking out remote locations off the tourist trail. This makes it possible for everyone to experience the desert by camel while being sure that you are company of experts. You will meet villagers in their traditional clothing and houses then move through the sand dunes of the Thar Desert to sleep under the stars. The duration of the safari varies from half day to multiple days. Most people chose an overnight safari allowing them to see villages, sand dunes, temples and many types of wild life. You are free to decide on the duration or your own trip. We have also trips for those people who are in Jaisalmer for a short time. We can design specific tours as per your needs for camel rides or a jeep, if you prefer.
Tour plan 1-The Swiss Tent Trip

Camel ride

Sunset on the sand dunes

Dance & evening cultural program

Buffet dinner

Sleep in Swiss tent

Breakfast
Option (B) - Cultural Adventure

Jeep ride

Visit villages and monuments

Camel ride

Watch sunset on sand dune

Dance & evening cultural program

Buffet dinner
Tour plan 3 (Overnight Trip) 1 night two days
Our most popular tour - off the beaten track for those looking for a tranquil and relaxing night. This particular camel safari adventure includes longer camel rides and optional duration. It features jeep rides,visits to villages ,camel rides,enjoy the amazing sunset and camping on the sand dunes. You may choose to start in the morning/afternoon and return next day in the morning/afternoon depending on your wishes. Please contact us for more information with arrival and departure time to design your trip.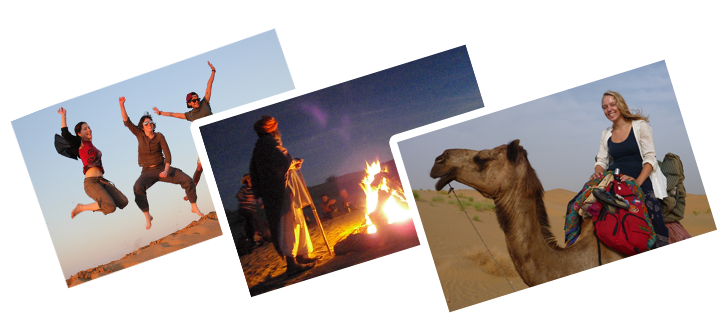 Please note : No guarantee of the weather condensation. During trip, you may have experience of unexpected conditions such as rain, heat or sand storms. We will not be responsible for any problems occurs with the consumption of alcohol during the trip leading any injury, sickness, loss of things. Riding is at your risk, please take care of this, no refund will be given .